VoIP remote collaboration tools
How VoIP Tools Help In Remote Collaboration
In this guide, you will learn about the role of VoIP in remote collaboration and the top benefits of using it, and how VoIP has revolutionized collaboration during the pandemic.
---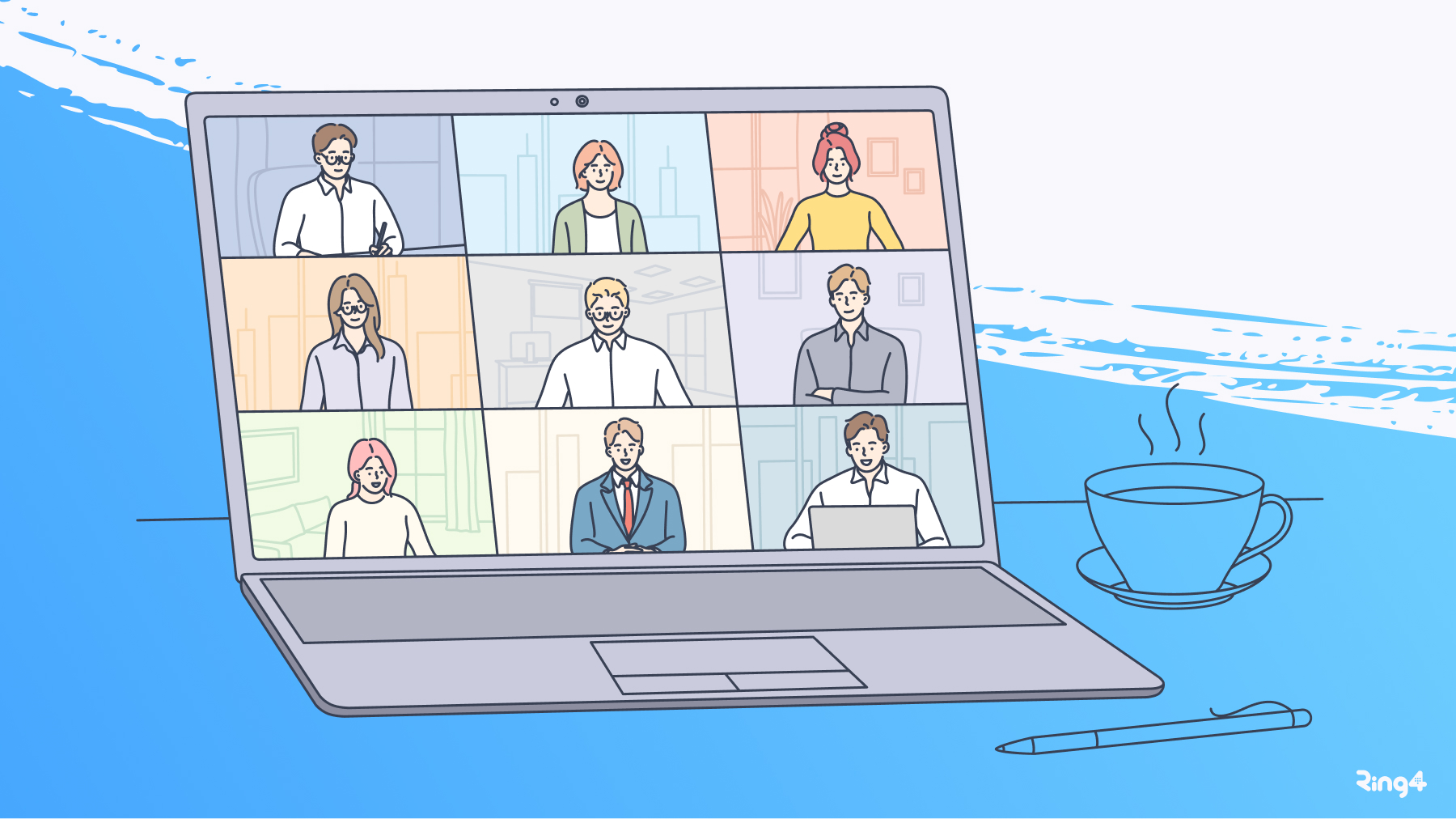 We have noticed a rise in the volume of businesses becoming remote in the post-COVID. Employees were required to operate remotely because of lockdown constraints. However, everyone is still interested in the remote working trends for 2022 even when life after the Pandemic is slowly coming back to normal.
Various trends in the VoIP (Voice over Internet Protocol) industry have been expanding in recent years, such as the centralization of online communication systems, enhanced adaptability of VoIP technology, increasing security issues, and the gradual decline of conventional telephones.
Meanwhile, the remote working trend heightened because of the coronavirus outbreak, which forced enterprises to adopt remote rather than shut down. According to a Global Workplace Analytics, 69% of U.S. employees worked remotely at the peak of the pandemic (based on 2,500 survey responses from full-time workers).
Also, the tech powerhouses cooperated with governments' orders to prevent the spread. Google, Amazon, Microsoft, and Twitter have all urged the majority of the staff to work remotely.
A 2019 Global Market Insights, Inc. reported that the VoIP industry is anticipated to be worth about 55 billion US dollars by 2025.
Workers applauded the change since it allowed them flexibility and more freedom at work. According to a famous remote work trend, over 50% of full-time workers want to choose remote working.
Did you know that over 77% of remote employees felt they are much more productive while working from home? Every regular employee is now willing to swap long-term employment for a more flexible one.​
Photo by Jason Goodman on Unsplash
What is a VoIP Call?
The distribution of multimedia and voice information through an internet connection is known as Voice over Internet Protocol (VoIP). It enables individuals to perform voice calls using a phone, computer, other smart devices, dedicated VoIP phones, and WebRTC-enabled browsers.
VoIP is a system that is beneficial for both individuals and companies since it mostly contains additional functionalities that are not available with standard telephone systems. Call recording, personalized caller ID, and voicemail to email are examples of such services. It is also beneficial to companies as a means of unifying communications.
Photo by Jordan Harrison on Unsplash
Role of VoIP Tools In Remote Collaboration
Regardless of how you describe remote work, remote collaboration is one of the largest issues faced by most businesses today.
As companies tackle problems including a constant decentralized workforce, mobile workers, remote employees, teleworkers, ad hoc task forces, and digital teams, it is getting highly necessary to have a reliable collaboration tool.
There are several methods for facilitating remote collaboration, but VoIP is most successful among all the available solutions. Companies can effectively control the whole channel of data with the use of VoIP tools, and that also at a minimal price.
This denotes your phone structure will work perfectly in every phase of the route even if your business eventually evolves and expands.
A VoIP system built from the ground up to engage with any remote collaboration tools your clients utilize can maintain you on par with the majority of the market.
VoIP tools are growing to effectively support remote collaboration as the workforce becomes further scattered. Especially video conferencing which has become a highly crucial part of the VoIP toolset.
As VoIP tools transform audio traffic into data traffic and transmit it via an internet connection, a Public Switched Telephone Network (PSTN) connection is no longer required.
Video conferencing is currently accessible on a broad array of equipment, from desktop PCs to smartphones, due to its expanding prevalence. This popularization makes it easier for distant employees to communicate with each other.
Source: Placeit
There are various roles that VoIP tools play in remote collaboration:
● Faster Communication
It has a number of distinctive aspects that make communicating a pleasure. Call forwarding, call routing, call recording, voice prompts, IVR, and voicemail are among the best functions in the VoIP toolset.
● Cost Saving
As compared to standard telephone services, VoIP is a steal-deal because the cost of high-priced equipment that will need replacement in the future is saved. It saves your company money upfront, and also reduces future expenses.
And not just that, even recurring expenditures like using charges and taxes are greatly reduced.
● Higher Productivity
When you use VoIP, the time lost on checking email inboxes several times is saved. Plus, it acts as a great enabler for those working remotely. Since VoIP is not limited to a singular telephone line, you just need a reliable internet connection to be able to make and answer phone calls from pretty much anywhere.
● Better Customer Service
Having a centralized place for all communicating tools also implies better customer services. You won't be bound to a workplace and can work from anywhere in the world.
● Always Connected
Regardless of where staff members operate, they can quickly engage with fellow staff members and customers. The efficiency of your business to reply to customer problems will improve and mobile staff will always be available.
● Video Conference and Free International Calls
VoIP also offers video conferencing, allowing businesses to build a unified and interconnected networking environment.
It enables long distant and international calls at a low price. Also, internet calls are generally free or less expensive as compared to calls from a regular PSTN connection. The location barrier is removed because the voice communication between your employees is instant and hassle-free. It's just a matter of having good quality hardware to support your VOIP, and you are all set.
Different VoIP Applications
It is worth mentioning how different VoIP applications like Zoom, Skype, Ring4 and Microsoft Teams have revolutionized virtual meetings during the pandemic. Virtual meetings are now much more seamless and easier than they used to be.
The best part is that you can find so many interesting features including virtual backgrounds during these remote calls. You can even add your own logos and backgrounds. There are multiple online tools available that allow you to create a logo design or media kits for branding.
Source: Placeit
Bottom Line
VoIP has tons of advantages and if you are not using it for your business, you are wasting money. It gives you the opportunity to work with people from all around the world without paying extra on communication. It's fast, simple, and easy to use. In the process of making the world a global village and improving ways of communication, VoIP has played a significant role.
---
About the author
Tech amateur enjoys traveling and writing.
Read more posts by this author.