Admin console

for remote teams.
Ring4 is a modern and light weight solution for all your VoIP needs. Setup your team account by signing into the console.
Setup your call center in the cloud

Enable your team to work remotely and be 💯productive
The business phone designed to make your life easier
Use your Ring4 phone lines to text & call from anywhere and from any device with an internet connectivity
☎️
Call + Text
Use your number with the web console or the mobile app on any device.
🤖
Call transcription
Let the Ring4 AI transcribe and log your calls.
👨‍💼👩‍💼
Manage users & numbers
Assign & re-assign phone line(s) to users dynamically.
📇
Contact list
Create a shared contact list with your team.
🎙
Call recording
Record your important calls & share then with you team.
🌎
Anywhere
Call any number anywhere & from anywhere. Ring4 works over IP.
Ring4 Phone lines

are like email accounts.
They are as easy to manage as email accounts with the Ring4 Business Admin Console and they can be used on any device with the Ring4 app.
Add a work line on a personal phone
Keep your work and personal lives separate like you do with email. Ring4 works over data or WiFi, it is as easy to use as Whatsapp.
Save costs, be agile
By using a phone line in the cloud, companies saves on cost and gain in agility. Ring4 starts at $9.99/month per phone line for an unlimited talk and text plan.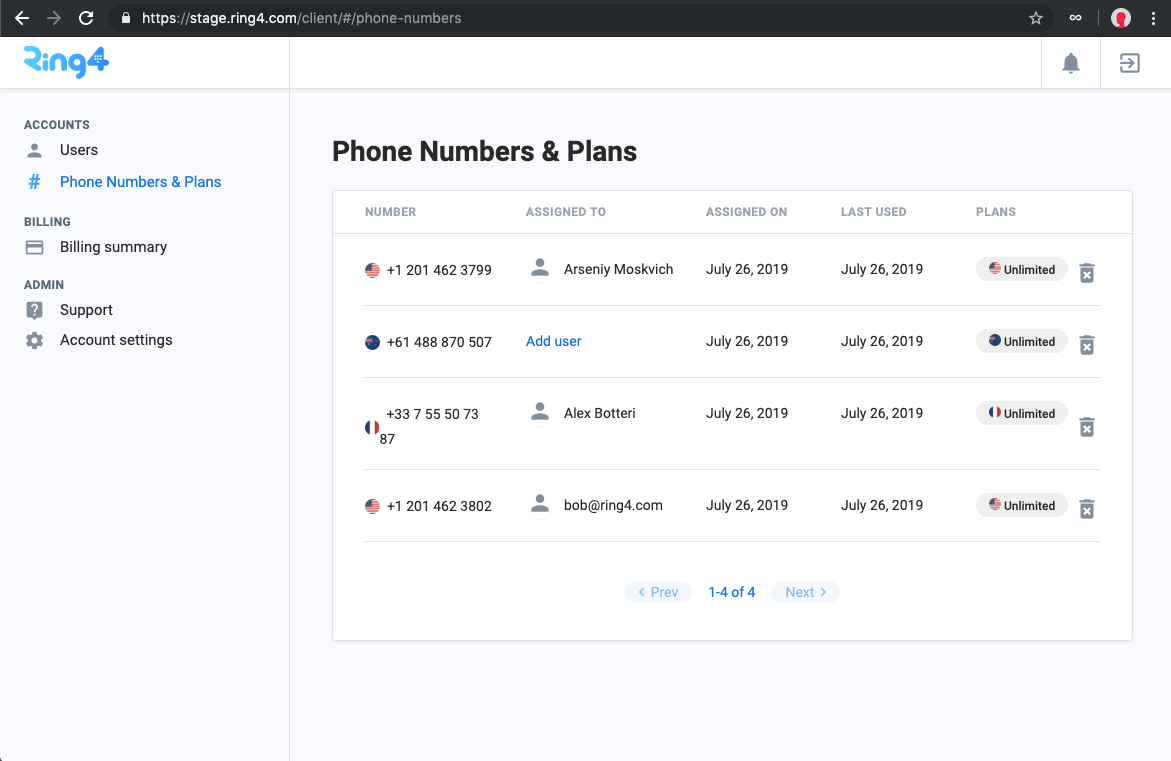 Modern phone system

created for
Ring4 is a virtual sim card, that can be used on any device over data or WiFi. The Ring4 numbers live in the cloud and are made available via the iOS or Android app.
Real mobile number

Setup in less than 1 minute
Works from anywhere

No commitment