VoIP remote collaboration tools
11 Best Communication and Collaboration Tools for Small Businesses
In this post, we'll explore the best communication and collaboration tools for small businesses. Many of which you can access directly from your smart device!
---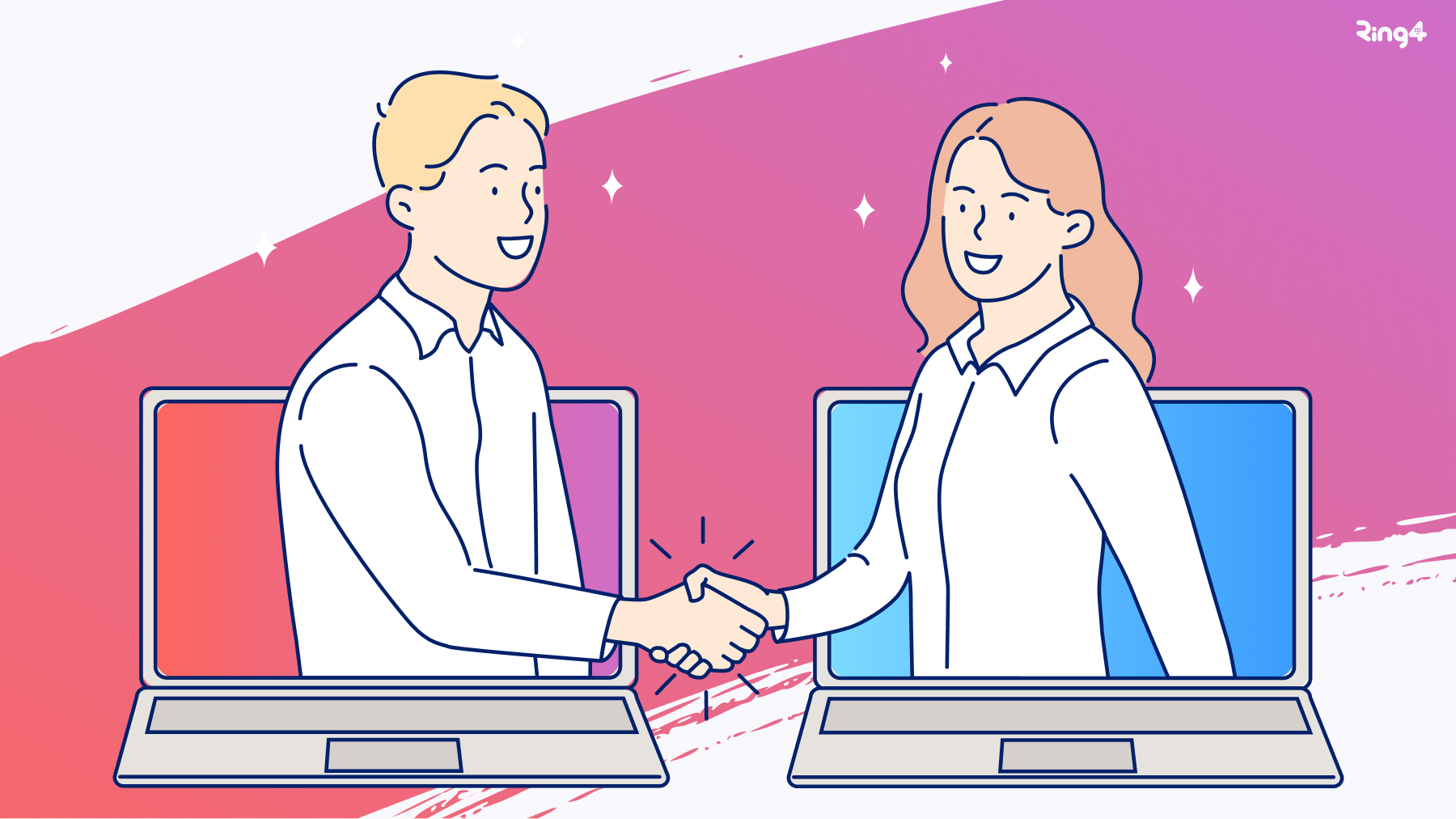 It's no secret that the internet has in many ways revolutionized the way business owners, employees, vendors, and clients communicate. Corresponding with someone is no longer limited to just a phone call, letter, or even an email. These days getting your message across can be as simple as sending someone a text message or video chat.
What's more, new technology has made communication faster and easier than ever before by giving everyone quick access to information through their smartphones. These tools are not just for communicating to one person but can be great for small businesses that want to create collaboration inside their business.
In this post, we'll explore some of the best tools to use in your small business for communication and collaboration. Many of which you can access directly from your smart device!

1. Ring4
Ring4 effectively helps business owners achieve the goal of making the office phone obsolete. It is a virtual phone system that can be used to replace your standard business line and allow employees to collaborate with their coworkers through messaging, call transfers, click-to-dial, video conferencing, and automated workflows.
The Ring4 App makes it easy to create an effective communication structure by providing features that allow employees to collaborate easily and service inbound calls from customers. Get your business phone number set up in 30 seconds here.

2. Slack
Slack has no doubt revolutionized the way that people communicate. This tool is designed to improve communication both inside and outside of your business by making it easy to share files, set up meetings, and create alerts for yourself and others in your company.
It also gives you the ability to create and join different chats (similar to a chat room) within your organization to bring all employees in your business together. Grab a free account on Slack.

3. Asana
Asana is a project management tool that can organize your projects and tasks. The goal of the software is to increase transparency, improve communication, and help employees across different locations coordinate their work together.
This tool makes it easy for employees to check on the progress of a specific task or an entire project without going into a multitude of different systems. Start with a basic account for free.

4. Taggg
Taggg is an online scheduler on steroids. The tool makes it easy for small businesses to schedule their appointments or coordinate meetings with potential customers.
This tool makes it easier for employees in your company to schedule meetings and helps you attract more business through online marketing, social media integration, and post-meeting notifications that inform both the customer and the company when future interactions can happen.
Paid plans of the software also have tons of integrations that allow you to link your current systems into your Taggg account. Get started with Taggg for free.

5. Trello
Similar to Asana, Trello is an excellent tool for organizing your projects. Its user interface allows small businesses to collaborate easily and assign tasks to keep track of progress and update everyone on new changes.
This online platform is great for giving you a bird's eye view of where your business's money is going and the employee hours being dedicated to a project. Trello can help you track time, set up alerts for upcoming tasks, and keep track of any changes that have been made. This makes it easy to always be in the loop when working with colleagues or clients. Create a free Trello account here.

6. GoToMeeting
GoToMeeting is a great tool for collaborating with clients and colleagues. While not free, the software lets you hold virtual meetings from your computer, tablet, or smartphone.
This platform allows everyone to communicate through live chat. It also records everything in the session, so no information is lost. You can also share documents and other files during a meeting. Start your free trial here.

7. Troop Messenger
Troop Messenger is another collaboration tool that lets employees communicate and collaborate within the business. While it doesn't offer free tiers like Asana or Trello, it provides a way for your team to send group text messages, files, photos, and videos. It also comes with audio calling, video calling, read receipts, and tag messages.
Troop Messenger is great for improving internal communication and making it easier to work with clients. Learn more about the software here.

8. ProofHub
ProofHub is an all-in-one project management and workflow management tool for productivity that helps small businesses organize and communicate their projects together. It comes with team communication tools like live chat, discussions, and more. You can create custom workflows and automate task management with reminders with Gantt charts and Kanban boards. Project managers will have a complete overview of the most important information relating to their team's workflows. App integrations include many that you're already familiar with such as Dropbox, Freshbooks, and Quickbooks.
Like other project management tools, ProofHub also has features that allow you to assign tasks and manage contractors. You can get a free trial of the software here.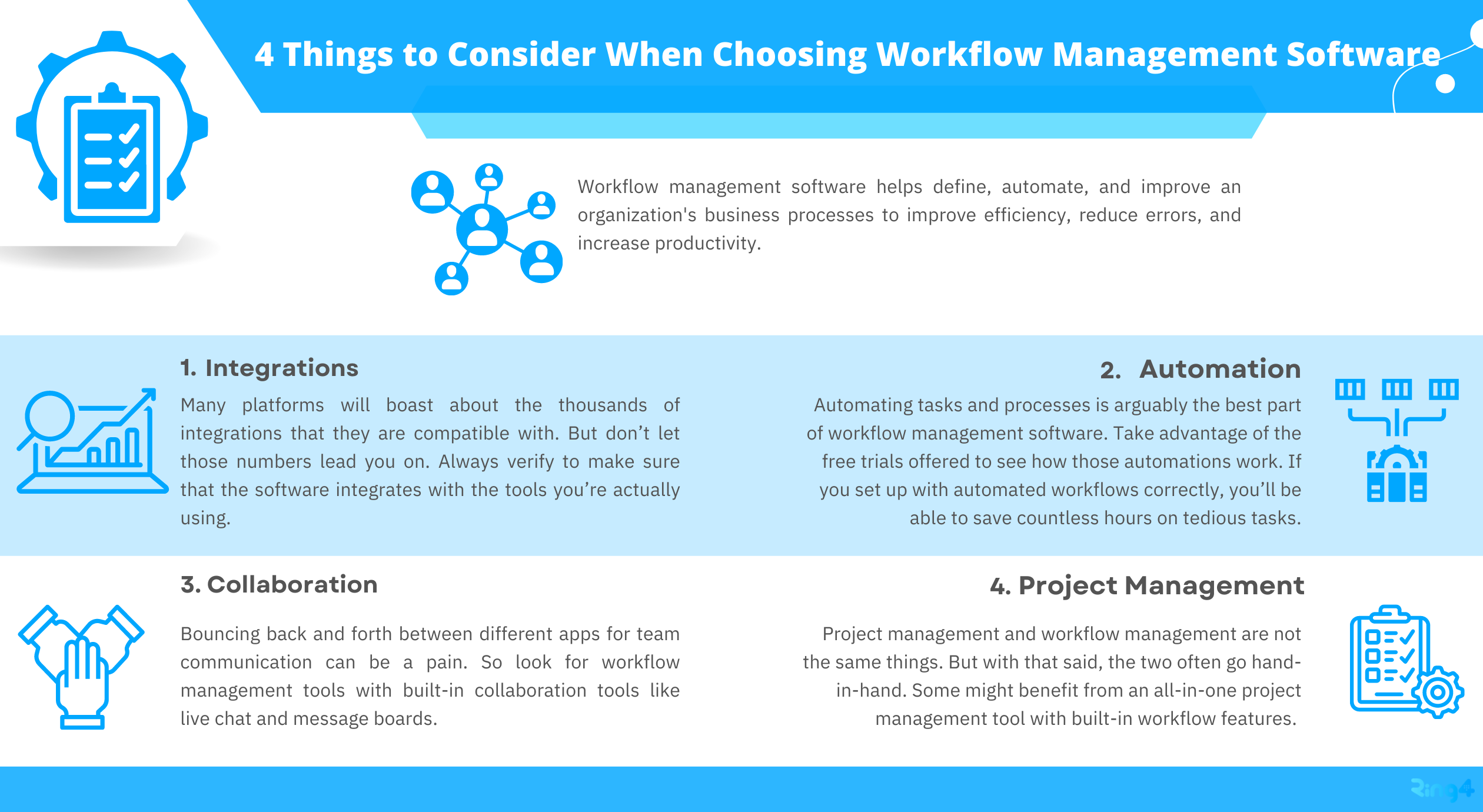 Source: Crazy Egg

9. RedBooth
This platform allows you to share messages, pictures, videos, voice messages, polls, and surveys with your team. Redbooth also has file-sharing tools built-in so that you can access files from any of the different computers or devices you might be using at the time.
The software also allows Kanban Boards to let you and your team know where a project is standing regarding time, deadlines, tasks, and other milestones. Redbooth also offers a free 14-day trial.

10. Toggl
Toggl is a freemium based online time-tracking tool that helps you measure productivity, which can be great for many team members or employees working remotely (especially freelancers). It makes it easy for everyone to create separate tasks, sub-tasks, and track their time on specific projects.
This tool is ideal for small businesses that need to measure productivity across different teams or employees working remotely. It can also help you see how much time you spend doing things important to the business. Start your free account here.

11. Teams.cc
Teams.cc is a simple and fast AI-powered team chat platform that helps teams of all sizes communicate and collaborate more effectively. Teams.cc is more than just a team chat software, It transforms the way your team collaborates with unlimited team messaging, secure file-sharing, channel management, in-app video calling, and powerful productivity tools, all under one platform. Get access to 37+ apps with NinjaChat for $14.99 per user. Start free trial here.
.
Use Tools For Communication and Collaboration
Communication and collaboration are essential for any small business. These ten tools can help you and your team accomplish tasks and finish projects more efficiently, no matter where your employees are or what communication method they prefer. Not only that, but solid lines of communication and methods of collaboration give your small to medium enterprise a competitive advantage if you're able to share information faster than other businesses just because of the way you've enabled your team to work.
There are plenty of other tools to help you communicate and collaborate better with your employees, clients, and vendors - many of which integrate well with our top pick on the list - Ring4. We may be biased, but we believe Ring4 is the best VoIP option on the market. Not only does it have all the features businesses like yours demand, but it's also simple to use. With Ring4, managing communication channels both internally and externally for your business is easy and efficient. Learn more about Ring4, and sign up today!
---
About the author
Trevor is a SaaS growth consultant and managing partner of Ring4. He leads the product development and drives innovation for building the best light-weight business phone solution in the cloud.
LinkedIn
|
Twitter
|
Website
Read more posts by this author.